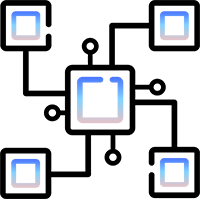 Storage Calculator
How to Use This Calculator?
This storage calculator is intended to be used for the Turing Smart Series IP Cameras. It is designed for the user to enter H.265 parameters for the main stream, with a fixed H.264 sub stream.
Instructions:
Enter Your Job/Project Name
Enter the retention period (in days) needed for "Recording Days Needed"

Choose a Recording Type:

Continuous - Recording all day

Motion - Recording only when motion is detected, in percentages

Choose the resolution of the camera's main stream
Choose the desired frame rate of the camera
After resolution and frame rate are selected, the calculator will automatically calculate the suggested H.265 Main Stream Bit Rate and estimates HDD based on that
Enter the Quantity of the cameras that will use these video encoding parameters
Click on "+" and "-" to add/delete additional cameras that use different encoding parameters
Once everything has been entered, the estimated total HDD needed is shown. A separate amount with 10% tolerance and total inbound bandwidth are also calculated.
Press the "Download" button to download the calculation result in PDF format
IMPORTANT: While programming your NVR and cameras, make sure to change encoding parameters according to the Pixel Resolution, Frame Rate, and recommended H.265 Main Stream Bit Rate used in the calculator.